I am always asked how treatments for semi permanent eyebrows work. Whether your chosen treatment is for Powder Brows, Microblading or some combination of brow treatments, the procedure follows the same basic set of steps. Here is your step-by-step guide:
Initial Consultation
Eyebrow Mapping Process
Numbing
Colour Testing
Aftercare Plan and Consent
Working on the skin
Once the treatment is finished (around 3 hours later), you get to see your captivating new brows! We then book a top up session for four weeks' time, to fill in any gaps where the skin has not absorbed the pigment. Let's review each step in turn.
How Semi Permanent Eyebrow Treatments Work - in 6 steps
The consultation allows the client to discuss what kind of look they want and ask as many questions as they like. Often, the client will refer to celebrities or women in the public eye and I can inform them what kind of treatment they have had. This sort of discussion can take place over the phone and is offered free of charge when you sign up using my form on www.sublimebeauty.co.uk.
The second part of the consultation is to run through a health check. This is to ensure that a) there are no underlying health issues that will prevent the treatment from taking place and b) if you are undergoing treatments that might impact the final result. For example particular supplements such as Retinol creams can thin the skin and this is something I will need to know ahead of the treatment. Please see my accompanying post '10 Surefire Ways to Make Your Semi Permanent Eyebrows Last'. This lists substances and activities to avoid prior to the session. Again, this can take place over the phone and then we can arrange for the treatment to take place.
When we meet in person it will be to begin your eyebrow journey! At the very beginning of the treatment, we will finish the consultation. We'll review the look that you want to go for and discuss the most appropriate semi permanent eyebrow technique. I can guide you towards something more suitable if necessary, to deliver better and longer lasting results.
A essential part of the entire treatment is to conduct a patch test. This rules out allergies to the pigment. Semi permanent pigment should be organic and there is very little chance of a reaction. Best practice dictates that this test is carried out before we go any further.
Once we begin, this stage takes the majority of the treatment time – think of it as the preparation before the work begins. I will clean the eyebrow area with an alcohol wipe and then draw the new eyebrows on, based on your features. Your features – mouth width, nose shape – dictate where your eyebrows should be placed, how long they should be, where they start and where they arch. I go into full details of the mapping technique in an accompanying post. 
Your new brows will suit your face precisely because of this technique, because they will be what you have chosen and what will naturally suit your face. You can even use this technique like a cheat-sheet to shape your own eyebrows at home.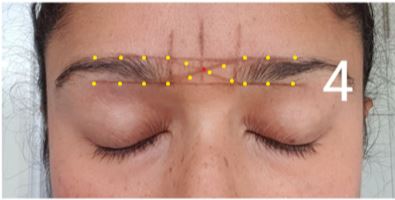 I apply a numbing cream to your brow area and cover this with cellophane, leaving it on for at least 20-30 minutes. The cream contains a gentle anaesthetic and will prevent you from feeling any discomfort during the procedure. Some clients report feeling a light scratching sensation, while others report feeling nothing at all.
While the numbing cream works, I go through the colour options with the client. This will be based on the client's chosen brow technique and skin tone. Colours are mixed and noted on the client's consultation form. When we have the top up session in another four weeks, we know exactly what we used and can make any adjustments accordingly.
Aftercare Plan and Consent Form
It can be tempting to begin the the main procedure, but I like to leave the numbing cream to work for as long as possible, so I find that running through this step now is a good use of time.
I will run through the aftercare advice leaflet which details exactly what the client must do to ensure a fabulous result. 95% of the success of this treatment is down to aftercare and there are some key things to do in the 48 hours following your treatment. A couple of these – avoidance of caffeine and alcohol – are tough, but I explain why this is so critical with you at the treatment and also in this accompanying post. 
I also present the client with a 'Microblading Emotions Journey' sheet which gives them a rough guideline as to how their eyebrows will heal from the initial treatment until I see them again for their top up. Some clients would become concerned following the treatment while their brows healed, so my daughter and I designed an easy reference guide showing the common emotions experienced until the four week top up, after which you can clearly see how fabulous semi permanent eyebrows can be.
Finally, we sign and date the Consent form so that I may start the treatment.
I use a clean comfortable reclining chair for the client to lie back in, with an additional layer of sterile paper towel. As with any semi permanent eyebrow treatment, I begin using a sterilized tool and a fresh disposable needle to gently insert the chosen pigment into the epidermis. If I'm microblading, this means drawing hair-like strokes that mimic the look of real hair. If I'm applying Powder Brow, I use a small hand machine that deposits the pigment in a pixel formation, resulting in a nice soft finish. Other techniques use a combination of these methods.
I will work in the colour density you desire, and sit you up to work on the eyebrow symmetry. You'll feel no pain due to the numbing cream applied earlier. You're going to wonder why you haven't had this done before when I show you a mirror!
I like to photograph your transformed brows once we're done. At the end of the treatment, we schedule the four to six week top up. The top up is essential and cannot be missed. Semi permanent eyebrows are a two step process. At the top up, I can make adjustments and fill in any gaps where the pigment has not taken.
This is how semi permanent eyebrows work. Now you can show off your dazzling new brows and follow your aftercare to the letter (I will know if you didn't!)