Sublime Beauty offers a mobile Semi Permanent Eyeliner (Permanent Eyeliner, Eyeliner Tattoo). It is a non-invasive cosmetic procedure that involve depositing organic pigment into the epidermis of the skin, creating more awake eyes that sparkle. It gives you the effect of eyeliner without the time and effort required in applying it every time.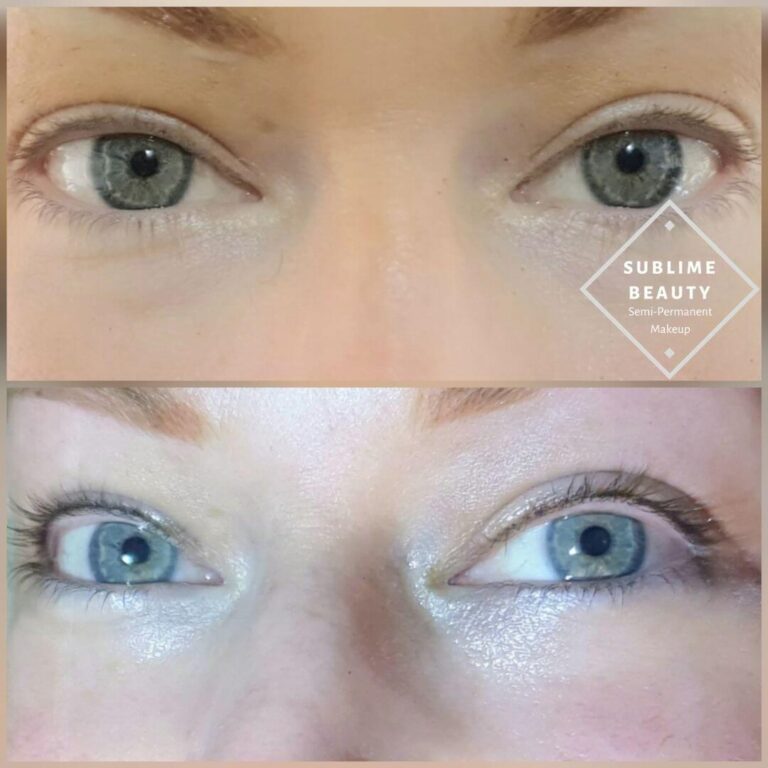 Also known as Permanent Eyeliner or Eyeliner Tattoo, Semi Permanent Eyeliner is a cosmetic, professional and aesthetic procedure in which organic pigment is deposited into the epidermis of your eyelid to create the perfect eyeliner effect on your last line. The result is more awake looking eyes that pop. Anyone can benefit from this treatment:
Why Semi Permanent Eyeliner?
As with any semi permanent makeup treatment, there are several benefits to semi permanent eyeliner. You won't have the aggravation of trying to perfect your application, nor will there be any smudging following a downpour during a British Summer. 
Recommended for any treatment is a top up session and this ensures that the pigment is long lasting – from 2 to 3 years! You'll no longer need to spend money on eyeliners, or the time each morning applying them.
How does Semi Permanent Eyeliner Work?
Your free consultation will involve a patch test that is done at least 24 hours prior to any procedure. This ensures that there are no reactions to the treatment. Anaesthetic numbing cream is applied to the eyelids before and during the treatment.
Using sterile disposable needles and your chosen pigment, I'll implant the colour into the epidermis. By the time I leave your home, you'll look like you've had eyeliner professionally applied!
The whole procedure takes between 2 and 3 hours, after which I'll give you aftercare advice and book in our follow up session. We have a top-up session after another 6 to 8 weeks, which allows time for the skin to fully digest the pigment. 
The top up session is where I'll add extra colour to fill in any gaps where the pigment might not have taken.
What the Service Includes
Semi permanent makeup is a two step process and you can't achieve perfection in one session. 
£260 – Eyeliner (top AND bottom) first session
£95 – Eyeliner (top AND bottom) top up
£190 – Eyeliner (top OR bottom) first session
£80 – Eyeliner (to OR bottom) top up
£50 deposit is required in order to reserve your SPMU appointment time upon booking.
This deposit will be deducted from the procedure price with the balance of payment payable on the day of your appointment.
​
If you choose to reschedule your appointment, a minimum 48 hour advance notice is mandatory or the deposit becomes non-refundable.
​
If the deposit is not received within 24 hours of booking, the booking will be cancelled.
Semi Permanent Eyeliner FAQs
Is Semi Permanent Eyeliner a Tattoo?
The technique of implanting pigment into the skin appears to be similar, but these are two different treatments entirely and it is confusing that Permanent Eyeliner, Semi Permanent Eyeliner are also referred to as Tattoo. Here are the main differences:
Machine Needle Depth
The machine used for semi permanent/permanent eyeliner works at the 'rejuvinating' are of the skin, the epidermis. As the skin naturally rejuvenates, the eyeliner fades and requires a touch up.
Permanent tattoo machine uses a longer needle to work at a greater depth in the skin, giving the tattoo its permanency.
The Ink Used
Ink used for Tattoos that are deposited much deeper are synthetic and permanent. The ink used for semi permanent work is cosmetic and has less of a metal to them. It is also the metal component that makes the ink permanently adhere.
How Long Does Semi Permanent Eyeliner Last?
Permanent Eyeliner, also known as Semi-Permanent and Tattooed Eyeliner, can last up to two to three years before you would need to consider any touch up treatments. However, this is down to the individual's health, lifestyle and aftercare.
Fill in your details here and I'll either email or call so we can begin to discuss your requirements.
A FREE consultation is just that – a free, no obligation discussion to understand what your requirements are and how Sublime Beauty can help. I can respond back by email (or WhatsApp if you provide your number) and we can go from there.