What You Can Expect from Semi Permanent Eyebrows
Our Brow service includes everything you need to have gorgeous and precise eyebrows that last. During your free consultation, I'll map your eyebrows to ensure that the shape is perfectly suited to your unique features and we'll choose a bespoke colour that matches your hair and skin.
On the day of your brow appointment, we'll do a patch test to rule out any allergic reactions before the fun bit begins. Anaesthetic will be applied before and during treatment to the brow area — some women report a slight tingling sensation when the pigment is applied, while others say the treatment is completely painless!  
Using sterile disposable needles and your chosen pigment, I'll create single hair strokes that replicate natural brows, so you avoid the drawn-on, coloured-in look. By the time I leave your home, you'll have gorgeous, well-defined eyebrows you can be proud of.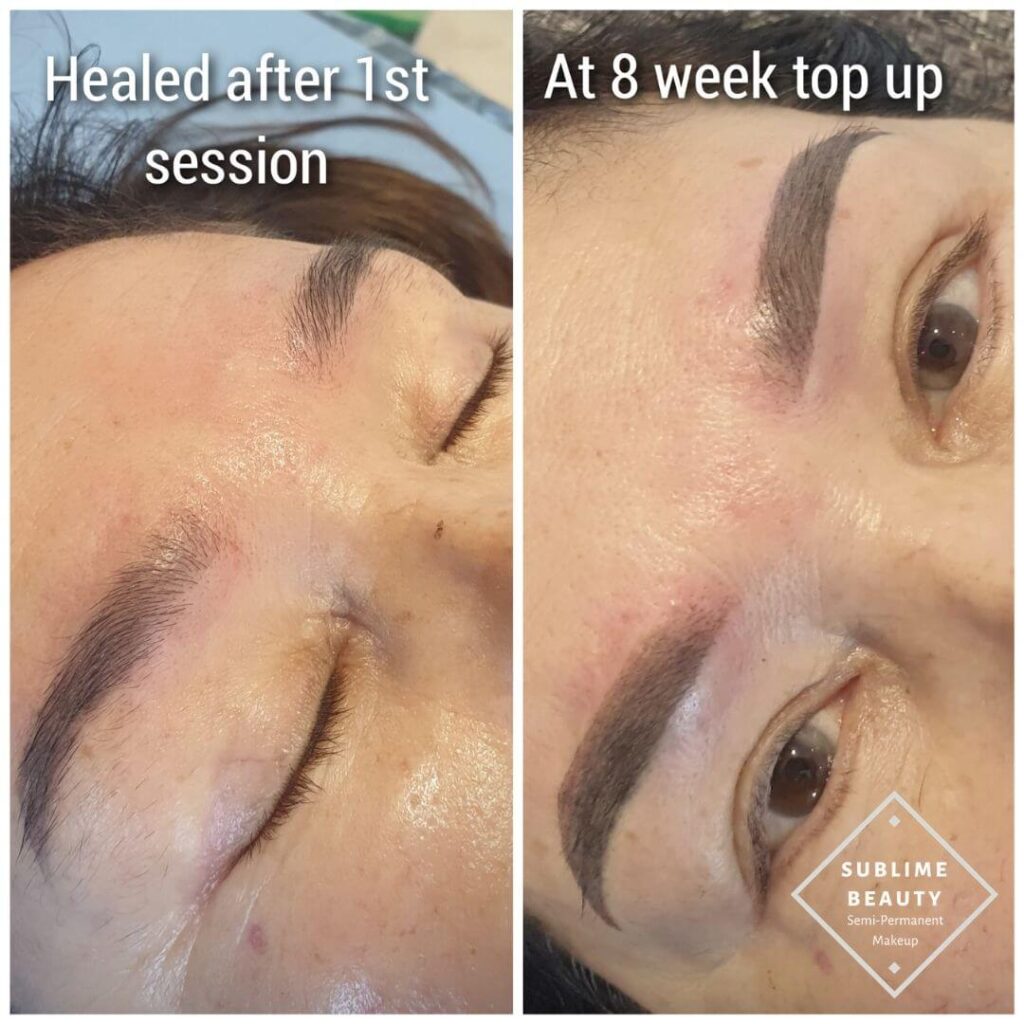 Unlike a tattoo, semi permanent eyebrow makeup involves lightly implanting pigment into the top layer of skin. This is where cells rejuvenate, which allows the colour to gradually fade over time and gives your makeup its semi-permanent nature. Your microblading session will last for three hours, after which I'll give you advice on aftercare and what to expect over time. We'll also get your top-up appointment booked in. This will be 8 weeks after your treatment, during which I'll add extra colour to your brows to fill in any gaps where the pigment might not have taken.
Sublime Beauty now offers Machine Nano Stroke, a new technique that provides crisp, natural looking brows. You can see this technique being practised in the accompanying video.
What the Service Includes
Semi permanent eyebrows are a two step process and you can't achieve perfection in one session. 
The 8 week top up session prices are listed here as well.
See also our Lip Blush, Eyeliner and Collagen Induction Therapy services for further details on those
£325 – Machine Nano Stroke Brow, £75 top up
£205 – Microblading, £90 top up
£215 – Powder Brow, £95 top up
£250 – Ombre Brow, £90 top up
£255 – Combination Brow, £95 top up
£255 – Hybrid Brow, £95 top up
£105 – Colour Boost within 6-12 months
£155 – Colour Boost within 12-18 months
Not sure what the difference between the above are? Check out this brief guideline on 5 types of semi-permanent techniques. Machine Nano Stroke Brow is explained in video above.
Your brows will retain their colour for around one to two years. For long-lasting results, it is important to follow the aftercare instructions and take care of your semi permanent eyebrows, but you can also enjoy additional colour boosts up to two years after your treatment for a fraction of the original price!
£50 deposit is required in order to reserve your microblading appointment time upon booking.
This deposit will be deducted from the procedure price with the balance of payment payable on the day of your appointment.
​
If you choose to reschedule your appointment, a minimum 48 hour advance notice is mandatory or the deposit becomes non-refundable.
​
If the deposit is not received within 24 hours of booking, the booking will be cancelled.
Semi Permanent Eyebrow FAQs
What is Semi Permanent Eyebrow Makeup?
Microblading (or semi-permanent make-up) is a well established and safe cosmetic beauty procedure. It is ideal for those who have uneven/patchy/overly plucked eyebrows and want 'natural' looking eyebrows without the hassle. Long gone are the days where you need to invest time in the mornings to pencil or fill in your eyebrows with makeup, Microblading allows you to wake up with perfect eyebrows saving you time and money.
Are You Really Allowed To Do This At Home?
Yes! I am. In many places across the UK local councils don't allow mobile microblading. I'm fortunate to operate in Bromley, Lewisham and Croydon which doesn't currently have any restrictions in travel for this service. It's definitely a good idea to check local rules when booking a beautician!
How does SPMU Eyebrow Makeup Work?
Your eyebrow shape will be drawn on, following a face mapping procedure to ensure they are accurate and suit the shape of your face. A patch test is done to ensure there will be no skin reaction with the procedure. Following this, anaesthetic cream is applied to the eyebrow area for your comfort and left to work for 30 minutes. With the use of a special hand tool, pigment is deposited onto the epidermis of the skin by a series of very fine 'hair stroke like' cuts. These ultra fine lines are difficult to distinguish from individual hairs resulting in beautiful and completely natural looking eyebrows.
​Although a microblading appointment lasts approximately 3 hours, the actual insertion of pigment into the skin is very quick. The consultation, eyebrow mapping and numbing consumes most of the treatment time.
​Unlike tattooing, semi-permanent makeup is only inserted into the epidermis section of the skin. Traditional tattooing goes far deeper into the dermis, making it permanent.
Does Semi Permanent Eyebrow Makeup Hurt?
An anaesthetic cream is applied to the eyebrow area to prevent any discomfort during the process. Microblading only works at the top most section of the skin (epidermis). With correct use of anaesthetic cream, the process may feel like light scratches on the skin, or you may feel nothing at all. 
Is SPMU for Eyebrows Safe?
Microblading performed by a fully trained artist is completely safe. It will be performed to the highest hygiene standards following best practice methods. Needles used in the hand tool are sterile and disposable and protective clothing such as nitrile gloves are worn by the artist throughout the process. I use high-quality pigments and as best practice dictates, a patch test will be completed prior to your treatment. This will determine if you are likely to have any adverse reaction to the microblading procedure.
Who can Benefit from Semi Permanent Eyebrow Makeup?
Anyone who has undergone chemotherapy or has alopecia will greatly benefit from Microblading, both cosmetically and spiritually.

Those who are allergic or sensitive to conventional make-up.

Anyone who is visually impaired and therefore struggles with applying make-up.

People who have unsteady hands.

Professional figures or people who need to look at their best all the time.

Anyone who desires perfect eyebrows without the hassle or expense of a daily application of make-up.
How Should I Prepare for my SPMU Session?
Do not shape your eyebrows before the appointment

Do not work out or do anything too strenuous on the day. 

Avoid blood thinning medications

Do not use Retinol products before and after the session

Avoid alcohol 48 hours before the appointment – it thins the blood!

Avoid caffeine 24 hours before the appointment

Avoid getting your eyebrows wet following the procedure

Keep your hair and makeup away from the eyebrows following the procedure

Do not pick at scabs!

These are brief but important points, covered in full detail in my blog post '10 Surefire Ways to Make Your Semi Permanent Eyebrows Last'. 
What Can I Expect After an SPMU Session?
Once your treatment is complete, I will give you an aftercare advice to follow for the following 7 to 10 days. We will also book your top-up appointment (included in the price) within 3 months which is required for any finishing touches or colour density adjustment.
You will not be able to wet the area for 7 days post treatment (or until the skin is fully healed). You may experience a slight swelling around the area which normally ceases within 24 hours.
It is normal for the eyebrows will be more intense in colour during the few days. The colour will fade by approximately 30% during the first 5-10 days and can be adjusted during your top up session. See 'Will My Semi Permanent Eyebrows Fade' for more information on this point.
Can I Get Powder Brows Wet?
Yes, but only after they have healed! For most people, this can be anywhere between 7 and 10 days.
Aftercare advice has evolved. Once you were required to wash your eyebrows and apply an ointment daily. It is now known that this is not the safest or most effective way of promoting infection free healing. Here are the reasons why:
​

Your body produces sufficient oil to form a natural barrier against any bacteria into the open skin. Introducing water or creams to the area carries a higher risk of infection as opposed to allowing the skin to 'dry heal'.
It is now understood that introducing water and creams to the area can draw out the pigment and result in premature fading, or simply prevent the skin from absorbing the pigment.

If you undertake strenuous exercise before the healing process, any sweat can enter the open skin and increase the chances of infection or premature fading.

Getting the area wet will increase the chances of any scabs falling off prematurely and as traces of pigment can be found in the scab, you will effectively reduce the amount of pigment being absorbed into the skin and can end up with a patchy healed finish.
Will My Powder Brows Fade?
In time your Powder Brow WILL fade and it is designed to do so! Don't be alarmed because unlike permanent tattooed brows, Semi Permanent Powder Brow uses ORGANIC pigment which if left untouched (not topped up), will fade into a lighter shade of the colour applied at treatment and eventually disappear altogether. Synthetic pigments however will change in colour and if the therapist has not nailed the colour theory, the brows can fade into cool blues or salmon pinks!
How often you top up your Semi Permanent Powder Brows is up to you, but regular top ups can be quicker and more cost efficient than just letting them fade out entirely, as this will involve more work for the therapist. See 'Will My Semi Permanent Eyebrows Fade' for more information on the aftercare procedure and how to stop your brows from fading prematurely. 
Is it Safe to Have Semi Permanent Makeup Whilst Pregnant?
There are some very mixed views on this question. But in my opinion, I would refrain from performing the procedure on a pregnant client for the following reasons:
​Hormonal Changes
Vascularisation (the formation of blood vessels) is improved in the body by high oestrogen levels. Because of this, experts say women tend to bleed more whilst they are pregnant. Indeed, clients are advised to avoid any blood thinning substances such as alcohol prior to the procedure as this causes excessive bleeding. If the client bleeds too much, the pigment is diluted and pushed out by the excessive bleeding and therefore, less than ideal amounts of pigment are absorbed by the skin. This means that the brow may not take too well and you'll require more than the two standard sessions to achieve your desired look, costing you more time and money than you had initially hoped for.
Potential Infection Risk
Increased vascularisation could also mean that healing may take longer. This could mean an increased risk of infection. I agree with doctors that the health of mother and baby is not worth the risk for a cosmetic procedure.
Lack of studies
Studies appear to be lacking into the effects of pigments on a developing fetus. Although the pigment used by any reputable Microblading Artist is organic, they still contain trace amounts of naturally incurring iron oxide and nickel. This is harmless to adults as fully developed bodies can process them, but this may not be the case for a fetus which is in its early stages of development.
What are my other options?
There is nothing stopping you from booking a free consultation with a reputable Microblading Artist that can guide you on a shape that would best suit your face.
I offer free consultations and will even pluck eyebrows to demonstrate how the current brow can be shaped. I can also suggest make-up options and demonstrate how you can do this at home. There are a variety of products out there in the market that are smudge proof, enabling you to enjoy your brows for the day.
​Ultimately the decision is yours, but having worried through every second of my pregnancy, I would advise you to wait, and at a time that is convenient (and safe) for you and baby, I will come to you and give you the brows you've always wanted without the need to arrange a babysitter. As the advert says 'good things come to those who wait'!
Fill in your details here and I'll either email or call so we can begin to discuss your requirements.
A FREE consultation is just that – a free, no obligation discussion to understand what your requirements are and how Sublime Beauty can help. I can respond back by email (or WhatsApp if you provide your number) and we can go from there.